United Talent Agency is suing its client, World of Wonder Productions, claiming it was cheated out of profits for the Oxygen television show "Tori & Dean: Home Sweet Hollywood."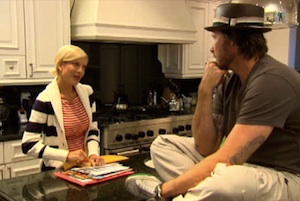 In a lawsuit filed in Los Angeles County Superior Court Friday, UTA accused World of Wonder of breach of contract, fraud, negligent misrepresentation and breach of fiduciary duty, among other charges.
Read the full filing here.
World of Wonder's "misconduct is evidenced by, among other things, its blatant attempt to cover up its accounting practices by refusing to provide UTA with full access to its own books and records," the agency's lawyers, Bryan Freedman and Steven Stiglitz, wrote in the lawsuit.
According to the suit, UTA was supposed to receive a portion of the profits of "Tori & Dean." World of Wonder paid UTA some of what it owed, but not all, the lawsuit alleges.
Lawyers Bryan Freedman and Steven Stiglitz wrote that UTA determined in 2010 that it was owed money.
Watch this video for more informationYou may like this trending videoAd By SponsorSee More
In December 2010, UTA asked World of Wonder to provide "an accounting of revenue received, expenses incurred, and profits earned in connection with the series," the lawyers wrote. World of Wonder "responded by offering to provide a limited form of accounting under severe restrictions."
UTA claims that World of Wonder "has refused to provide UTA with a reasonable accounting and has maintained that no additional amounts are due to UTA."
They wrote that "further efforts at negotiation have proven futile."
World of Wonder has produced many television shows, including "RuPaul's Drag U," "Design School," "Drag Race," "Viva Hollywood!" and "House of Clues."ADVERTISING
The company's lawyer, Mark Campbell, wrote in an email Saturday that "we are confident that our client will prevail in defending these unfounded claims."
Lawyers for UTA did not immediately return telephone calls Friday.
Pamela Chelin contributed to this article.Show Comments